---
#Engage12 – Two for the Price of One
Today it's the Fourth Day of christmas so the Engage team are brining you two for the price of one in terms of our 12 successes!
3 – Naked, Naked, Naked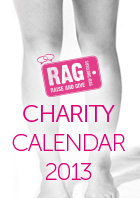 As you probably will know RAG at Southampton is the short hand way of saying Uni of Southampton Students Raising Money for Charity.  Some of the fundraising is organised by the RAG teams themselves, but a lot of money raised is done by Clubs, Societies and Individuals, and as long as you let us know we add it all onto our total and we have a award scheme we call this the RAG Challenge. If you've done or planning some fundraising make sure you let the RAG team know by emailing rag@susu.org
This year RAGs Challenge Team stepped up the Naked RAG Calendar, and got loads of Clubs & Socs involved in geting naked for charity  With so many Pre-Orders they had made money before they even went to print! If you havent got your copy yet buy one from the box office.
RAG are off to a cracking start this year and if you want to get involved in helping them raise even more money check out the facebook group here.
4- No Sleep for Union Films
This term Union Films have done three of my favorite all nighters yet. This is where they take over the union building for a movie marathon and its always a wicked experience! Since september we've had Avengers Assemble, the Halloween All Nighter and  The Dark Knight Trilogy.
All three events came with a T-shirt to match the marathon and as always with Union Films were great value for money. At the halloween All Nighter there was a link up with Performing Arts by having an interactive play during the intervals. We also had a first run movie of sinister, this means that we showed it at the same time when the major cinemas were showing it, which may not sound like much but was a big deal! The DKT sold out and hundreds of students watched the epic Christopher Nolan movies on the big screen once again.
In my view movie marathons and things like this are exactly what student run cinema is all about, putting on wicked events that students want and the big cinemas simply just dont do. But don't get me wrong things like these don't just happen, theres a lot of hard work going on in the background and all organised by student volunteers. Undoubtably this is a fantastic time to say on behalf of students who love having a cinema, keep up the good work guys!